Welcome to Good Status!
This is an affiliate site. That means we provide you the images and description of the products and then we give you a link to the seller's page where you can buy that product. Our partnership with the sellers from all over the world helps us keep working on this site and continue to advertise the sellers' products.
Thank you for choosing us!
New Chapter Zyflamend Prostate, Vegetarian Capsules - 60 ea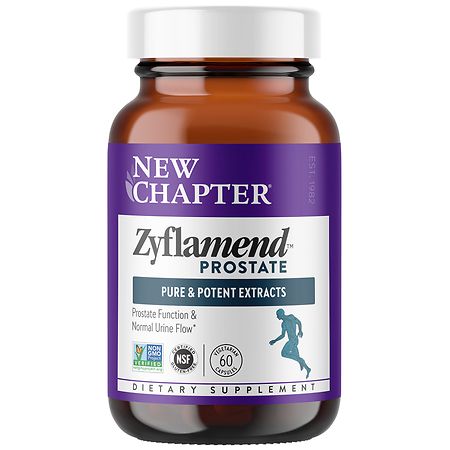 Buy it from the seller
(redirects to Walgreens where you can buy it)
Dietary Supplements Non-Gmo Verified Formula Non-Gmo Project Verified Targeted Support For Prostate Health: Supports Prostate Function &Amp; Normal Urine Flow* Includes Whole-Food Anitoxidants To Support Healthy Aging* 100% Vegetarian Taegting Your Prostate Health Prostate Health Is A Concern For Every Man As The Years Go By. Fortunately, Nature Has Provided Us With An Array Of Key Foods And Herbs That, When Sufficiently Concentrated And Intelligently Blended, Can Provide Support For Prostate Health.* You Can Find These Select Ingredients In Zyflamend Prostate, The Unique Herbal Formula With A Combined Appraoch To Prostate Health: Helping To Support Normal Urine Flow, Supporting Healthy Antioxidant Repsonse, And Supporting Overall Prostate Health.* The New Chapter&Reg; Difference Our Supplements Are Whole Food, Easy For The Body To Recognize And Absorb. Using Only Supercirtical Co2 And Traditional Extraction Methods, Our Pure And Potent Herbal Extracts Help Deliver The Full Spectrum Of Valuable Phytonutrients Form The Finest Herbs. Herbal. Holistic. Health. Holistic Prostate Support This Concentrated Formula Is Targeted To Support Prostate Health And Function, And Help Support Quality Of Life.* Normal Urine Flow Prostate-Supportive Whole Herbs, Including Supercritical Saw Palmetto, Help Maintain Prostate Function And Support Normal Urine Flow.* 1+1≫2 Contains A Proprietary Blend, With Complementary Pumpkin Seed Oil, That Has Been Shown In Vitro To Be More Effective Than Its Single Herb Constituents. Antioxidant Action The Zyflamend Formula Helps Deliver Whole-Food Antioxidants, Including Ginger, Turmeric, Green Tea And Rosemary, To Help Quency Fre Radicals And Support Healthy Aging. Super Pure &Amp; Potent Our Full-Spectrum Process Extracts Precious Plant Compounds To Preserve Nature'S Full Compexity, Helping To Deliver A Super-Pure, Super-Potent Herbal Extract. Gluten Free Certified B Corporation New! Liquid Vcaps 100% Vegetarian Product 888-874-4461 * This Product Is Not Intended To Diagnose, Treat, Cure Or Prevent Any Disease.
Product keywords: Walgreens, New Chapter Zyflamend Prostate, Vegetarian Capsules - 60 ea
Similar products you may like: